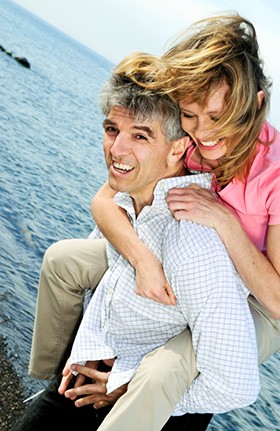 Getting bridges is often the best option for many patients who have lost multiple teeth. However, getting your own pair of traditional bridges can be a time consuming process, which can be an issue for many people who need this treatment.
If you have ever wanted bridges, but have been intimidated by the thought of having to wait for your custom bridges to arrive or may have felt like you didn't have time for all of the treatment sessions necessary, then we have a solution for you.
All-on-4 bridges is a revolutionary process in which you can have implant supported bridges placed and ready to use in as little as 24 hours. Having All-on-4 is the perfect alternative for patients that would like another option besides traditional bridges.
How does All-on-4 work?
On the first day of treatment the dentist and his staff place four dental implants strategically around your mouth. Dental implants are synthetic tooth roots that are placed in your jawbone that fuse with the bone just like the roots of your natural teeth. These implants provide support and prevent your bridges from coming loose (with no need for adhesives!), and making clicking sounds often associated with more traditional forms of bridges.
Often when dental implants are placed patients will have to wait an average of 3-6 months before continuing with the next step. Not with All-on-4! With All-on-4, Dr. Welch and his staff can place your dental implants, and even secure your bridges in as little as one treatment. Once your implants are in, your new bridges are gently secured by our caring staff. The bridges are made before your visit, and should be ready by the time the implants are in your mouth.
As soon as your bridges are secured to your implants, you can enjoy natural looking teeth that can perform and look beautifully.
All-on-4 implant supported bridges allow our patients to be able to get back their smile, get back their ability to eat the foods they love, and no longer have to worry about bridges coming out and causing awkward situations.
Have any more questions about All-on-4 or implant supported bridges? Please call us with your questions today.